This week we begin with a great new book from Stefani Bittner and Alethea Harampolis "HARVEST – Unexpected Projects using 47 Extraordinary Garden Plants"  Learn more about Stefani and Alethea.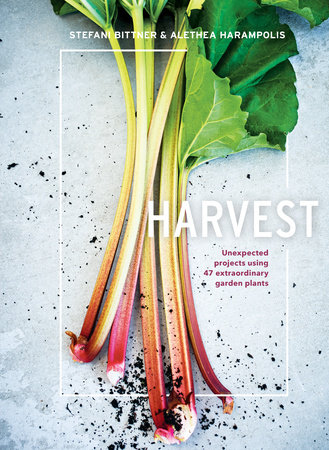 A beautifully photographed, gift-worthy guide to growing, harvesting, and utilizing 47 unexpected garden plants to make organic pantry staples, fragrances, floral arrangements, beverages, cocktails, beauty products, bridal gifts, and more.Every garden–not just vegetable plots–can produce a bountiful harvest! This practical, inspirational, and seasonal guide will help make any garden more productive and enjoyable with a variety of projects using unexpected and often common garden plants, some of which may already be growing in your backyard.Discover the surprising usefulness of petals and leaves, roots, seeds, and fruit: turn tumeric root into a natural dye and calamintha into lip balm. Make anise hyssop into a refreshing iced tea and turn apricots into a facial mask. Crabapple branches can be used to create stunning floral arrangements, oregano flowers to infuse vinegar, and edible chrysanthemum to liven up a salad. With the remarkable, multi-purpose plants in Harvest, there is always something for gardeners to harvest from one growing season to the next.  Get a copy NOW!
Then Ryan Freismuth from Avery Brewery joins us to talk about his visit to Wichita for the The 17th Annual Midwest Beerfest and the fine menu we put together with the staff at Larkspur the venue for the Avery dinner.  Follow the link to see the menus.To start your Beerfest weekend, join us on Friday, May 19 for one of our three Beer Dinners:
Avery Brewing Company at Larkspur Bistro & Bar
Boulevard Brewing Company at DoubleTree by Hilton Wichita Airport
Rob's World of Beer Dinner at Wichita Marriott
Guests will enjoy some of the finest American beers paired with spectacular food selected to celebrate and enhance the flavors of each brew.
Dinners begin at 7 p.m. cost is $55 per person.
Reservations  only by calling (316) 682-5502.
Seating is limited.
Then in the second half Wine Maker Nils Venge from Saddleback Cellars joins us to talk about the winery, his notorious winemaking career and the great wines being made in Napa at his Oakville winery.
Nils got his start in Napa in 1970, and has been creating award-winning wines at Saddleback since 1981. Known as the "King of Cab," he is the first American to achieve a 100-point score from wine critic extraordinaire Robert Parker Jr. for his production of the 1985 Groth Reserve Cabernet Sauvignon.Saddleback sits on quiet Money Road, a dead-end lane in the Oakville District of the Napa Valley AVA. Renowned for its quality Cabernet Sauvignon, it is the perfect home for the King of Cab. While our first love is Cabernet, Saddleback produces a plethora of varietals from our estate vineyard and from select vineyards thoroughout Napa Valley.
Good Life Guy's Wine of the Week:
The Wines of Saddleback Cellars
Pick up some of Nils handiwork at Jacob Liquor Exchange on N. Rock Road and join us!