My guest this week is Troy Ball, founder of Asheville Distilling in North Carolina and the author of "Pure Heart – A Spirited Tale of Grace, Grit and Whiskey."  www.troyball.com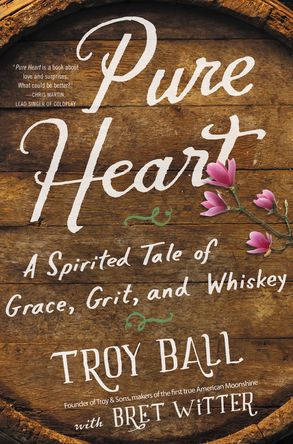 Troylyn Ball and her husband, Charlie, an engineer and real estate investor, had spent their entire lives in Texas. But after a near fatal trip to the emergency room with their mute, wheelchair-bound son Coulton, they admitted the dust and the heat were too dangerous. To save their boys, the Balls cashed out, sold their beloved farm, and moved to Asheville, North Carolina.
Nearing fifty, Troy thought her chance at adventure had passed. But in this booming little Appalachian Mountain city of hippies, farmers, artisans, and retirees, she unexpectedly discovered a support network and something she'd never had in twenty-five years of providing round-the-clock care for her special needs boys: the freedom to pursue her own dreams. She struck up a friendship with a legendary eighty-year-old raconteur from the mountains, met his friends, and soon found herself in a rickety country shack with an ingeniously inventive retired farmer trying to create the best recipe ever for traditional mountain moonshine.
But when the real estate bubble burst and the collapse of her husband Charlie's new venture in Asheville left them deeply in debt, Troy realized her ten-year business plan for Troy & Sons Platinum Whiskey wasn't enough. If she was going to save her family—and she was definitely going to save her family—she needed to become the most successful woman in the legal whiskey business. And she needed to do it fast, before the bank took her house, her business, and everything she'd worked so hard to achieve.
Full of eccentric characters and charming locations—from a "haunted" cabin in the mountains to the last farm in the world to grow heritage Crooked Creek corn—Pure Heart is a charming story of a woman who set out to find a purpose in the most unexpected of places, and ended up finding happiness, contentment, and a community of love and respect.
Get a copy NOW   😉
We'll tell you all about her book and more importantly about the First Class products being produced.
Troy & Sons Platinum Whiskey, Troy & Sons Oak Reserve Whiskey, and Blonde Whiskey. Troy & Sons Platinum recently received a gold medal for moonshine, the highest possible rating. Troy's whiskies are handmade in Asheville, North Carolina and made from the pure heart of each distillation. Blonde Whiskey and Troy & Sons Oak Reserve have been rated 92 and 95 points.   Visit:  www.ashevilledistilling.com to learn more and order some!
From Asheville Distilling…

Good Life Guy's Wine of the Week:
2014 Kasteelberg Shiraz, Swartland South Africa

A complex wine offering the upfront black fruit/berries of a new world Shiraz with spicy nuances on the nose. The palate is concentrated and balanced, showing plums, warm vanilla and spice.  This wine is available in very limited quantities, only 459 Six-packs were produced and Jacob only has 60 of those.  If you were on the Jacob email list you would have had a pre-purchase opportunity!
Go here to sign up for the Jacob Liquor Exchange email list…do it NOW  🙂