If you missed it LIVE… Click here to listen or download this show!
My guest this week is Paula Moulton.
Nearly ten years after her husband was killed in a car accident—and three days before the 2003 release of her first edition of this book—Paula Moulton took a risk and enrolled in a ten-month wine management program at Le Cordon Bleu in Paris.
In this second edition of Seasons Among the Vines, Moulton details the adventures that ensue when she leaves her home in Sonoma to face the unknown in France. In Paris, she has not only the struggles of living in a foreign country to cope with but also the rigors of the French academic system—complete with a one-month stint in Bergerac as a cellar rat and a six-week internship as a sommelier in a prestigious restaurant off Le Champs Elysees. Interspersed throughout her narrative is advice for weekend gardeners and wine-loving suburbanites on how to make wine at home, as well as everything a reader could ever need to know about successful food and wine pairing, how to make intelligent decisions when choosing wine, and how to smell, swirl, and taste wine like a pro.
Full of international escapades, unforeseen wine disasters, and new-world twists on old-world secrets,Seasons Among the Vines paints a bona fide picture of what it means to follow a dream even after suffering great loss.  Get a copy NOW!
Paula Moulton is co-founder and CEO of A Sip Away. She is a viticulturist, award-winning winemaker, and published author with over 25 years of experience in the wine industry. She has worked with wine talent such as Joel Peterson of Ravenswood Winery, Mike Benziger of Benziger Family Winery, Jean-Luc Thunevin (Bordeaux's Bad Boy wine), and Phil Coturri of Enterprise Vineyards. She was recently one of 20 students invited to spend a year in Paris, France studying wine management at Le Cordon Bleu. Paula has appeared on the Today Show, CBS, NBC, ABC, FOX, CRN, and other major media outlets as an author and wine industry leader. She holds a BA from UC Berkeley in Rhetoric, an AS in viticulture from Santa Rosa Junior College, and a Wine Management degree from Le Cordon Bleu, Paris, France. She currently lives in Sonoma, California.  www.paulamoulton.com 
FINALLY…Kansas, we have Benovia available.  My good buddy Bob Cooley, VP of Marketing and Sales at Benovia joins us to talk about one of the products that recently arrived on the shelf at Jacob Liquor Exchange.  Benovia winemaker and co-proprietor Mike Sullivan is a rock star and making some of the finest Pinot Noir and Chardonnay in Sonoma.  The new wine making facility will allow Mike not only to continue his spectacular track record but set the bar even higher.  Learn more about Benovia!
Good Life Guy's Wine of the Week:
2012 Benovia Russian River Chardonnay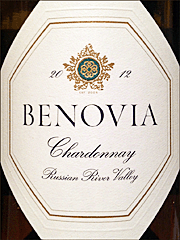 This Chardonnay is bursting with aromas of citrus blossoms, nectarine and spice baked pears. The multifaceted aromas and dense mouth feel are knit together by centered acidity and a long-complex candied apricot finish. Barrel fermentation and oak aging for 12 months have added hints of candied ginger, and baking spice to a subtle minerality on the finish.
Stop by Jacob Liquor Exchange on North Rock Road, pick up a bottle and join us!