My first guest is Michele Castellano Senac with her new book "As Old As Time – A Culinary Odyssey Using Flavored Olive Oils and Balsamic Vinegars."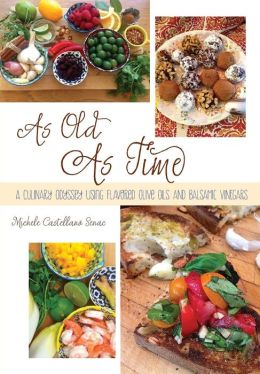 As Old As Time is a culinary odyssey into the world of pure and flavored olive oils and balsamic vinegars. Make healthy and delicious foods a part of your life with 65 full-flavored recipes, along with simple variations for even more menu options. Learn about the power of these ancient foods that are as relevant today as they have been throughout the ages.  Get a copy NOW!
If you want to expand your learning and get a book…go to Olio's here in Wichita.  Located at 10051 W 21st St N you can get a copy of the book and more importantly you can taste you way through some spectacular Extra Virgin Olive Oil and some fine aged Balsamic Vinegars.
Michele Castellano Senac lives, writes and cooks in Greenville, South Carolina. She is a Registered Nurse with a passion for healthy living. Michele has been writing all her life beginning with daily journaling, which she still does today. She has written numerous articles related to health and healing, lifestyle, including cooking, entertaining, creating a comfortable and energized home, and honoring the value of a balanced life.  Learn more about Michele
In the second half KR Rombauer joins us to talk about this great winery, products produced, and a little about the upcoming AIWF Midwest Winefest Dinner at the Ambassador Hotel in Old Town.  The dinners are on Friday April 24th, you can see the menus of all four dinners and learn more by clicking here.
Good Life Guy's Wine of the WeeK:
2011 Rombauer Napa Valley Cabernet

A mild growing season yielded a fruit-driven wine with soft tannins. Deep purple color, nearly black at its core with a crimson hue. Tobacco, black currant, black olive and plum aromas radiate from the glass. Dark berry fruit unfold across the palate adding weight and dimension. Hints of spice and raspberry build on the back palate for a smooth finish.  Our favorite pairings for this wine include rack of lamb over mashed potatoes, venison black bean chili, and chocolate ganache tart.