First up is Rick Rodgers with his latest book Winter Gatherings.
Looking for the perfect recipe to warm up a cold winter's night? Making use of the hearty seasonal produce from root vegetables to apples, from leafy greens to lush pears, the recipes in Winter Gatherings bring winter's flavors together perfectly.
Award-winning cooking instructor Rick Rodgers brings you purposefully cozy and uncomplicated recipes that highlight the particular flavors and tempting aromas of the winter season.
There's no better way to warm up the hearth this time of year than by sharing a hearty meal with your friends and family. With mouthwatering, soul-satisfying recipes and inspiring color photographs, Winter Gatherings will brighten your holiday table all season long.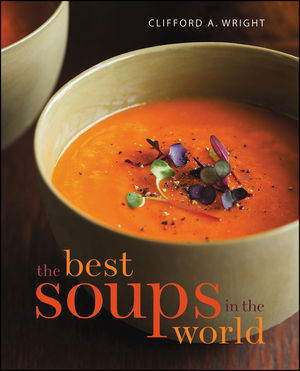 Then will continue the cold weather theme with the ultimate soup cookbook-from James Beard Cookbook of the Year award-winning author Clifford Wright.
Soup is an affordable, popular dish the world over. In The Best Soups in the World, renowned food scholar and cookbook author Clifford Wright compiles the globe's most delicious soups into a single collection, exploring the history and cultural significance of each recipe along the way.
Perfect for cooks at any level of experience, the book includes traditional American and thrilling international flavors alike-from Old-Fashioned Chicken Noodle to Thai Mushroom and Chile to Mexican Roasted Poblano and Three Cheese to Tuscan White Bean.
The Best Soups in the World presents exciting, enticing, easy-to-prepare recipes using common, easy-to-find ingredients-perfect for budget-conscious cooks whose tastes know no boundaries.
We'll finish with a great cold weather "Wine of the Week"  
 Importer Kermit Lynch says: "In my view, Salvard's Cheverny is the best Sauvignon Blanc value in the world, especially if you value classic varietal character in the Loire style, meaning relatively low alcohol, intense perfume, and crisp, invigorating body. Cheverny, which boasts a stunning château, is located between Reuilly and the great Chenin Blanc appellation of Vouvray. It is the northwest fringe of the Loire's Sauvignon Blanc country."
This entry was posted on Monday, January 11th, 2010 at 5:22 pm and is filed under
Other
. You can follow any responses to this entry through the
RSS 2.0
feed. You can
leave a response
, or
trackback
from your own site.